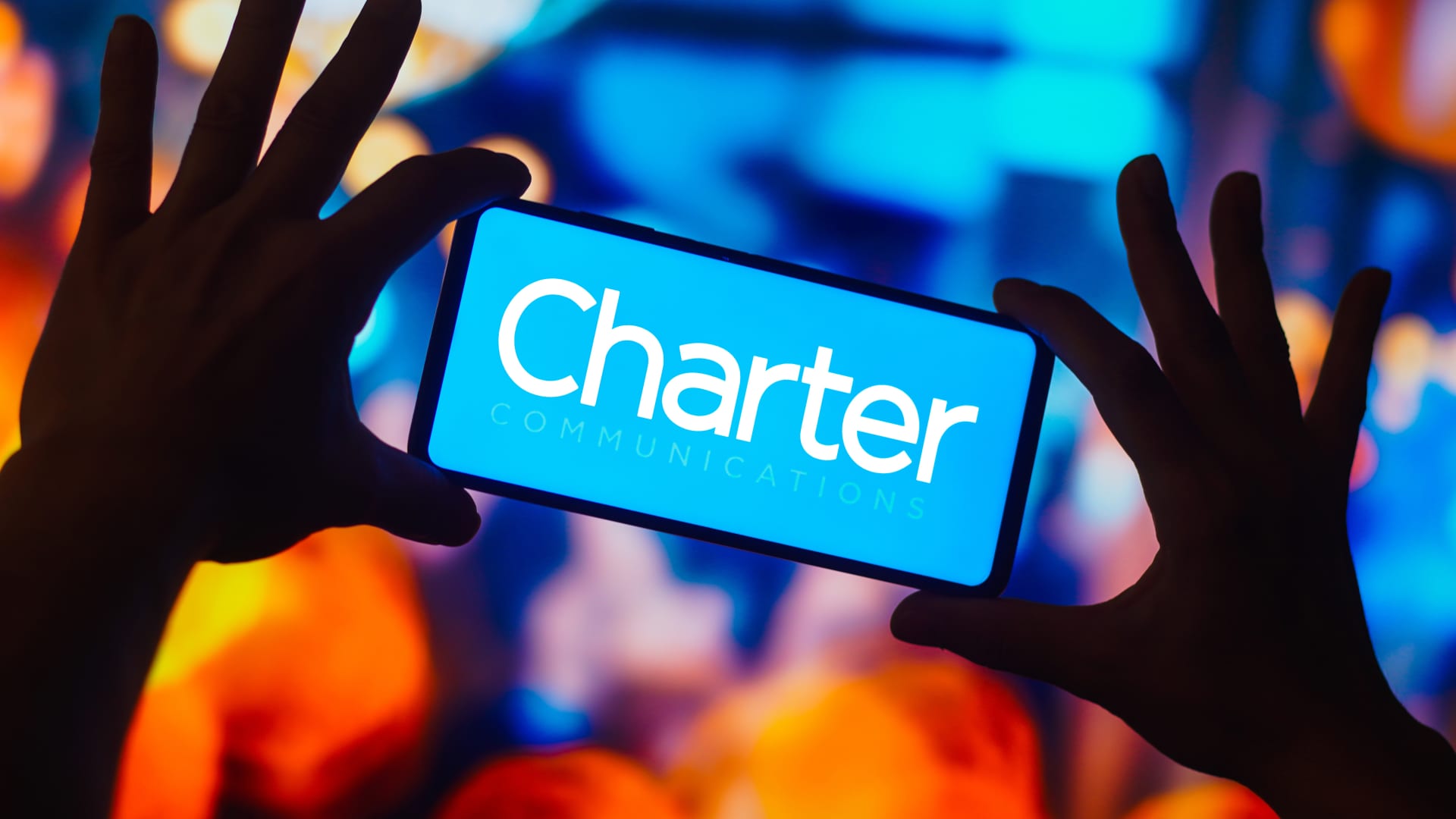 [ad_1]

In this photo illustration, the Charter Communications logo is displayed on a smartphone screen.
Rafael Henrique | SOPA Images | Lightrocket | Getty Images
Charter Communications CEO Chris Winfrey wants the pay-TV bundle to live.
He also thinks the industry should get on board with a new model.
The CEO of one of the largest cable companies in the U.S. on Friday put media content companies on notice that negotiations would look different after Disney-owned networks went dark on Charter's Spectrum service.
The so-called blackouts have gone on for decades and usually stem from a battle over rising fees — when programmers like Disney want higher rates and pay-TV distributors like Charter balk at paying up. Usually, the demand for sports events like the U.S. Open, which is in full swing, or the upcoming NFL season, help to prevent channels going dark for customers.
But this time it's different, Winfrey said on a Friday call with investors.
The pay-TV model is broken, said Winfrey, the CEO of a company that has 14.7 million customers subscribed to its bundle but sees that number drop every year.
For Charter, a company that doesn't produce content itself, the TV bundle is still a big part of its business, even as broadband grows. Charter is pushing to keep the bundle alive with new options — flexible packages and improved technology to tie streaming and traditional TV together — as high prices and streaming have driven customers to cut the cord.
Pay-TV bundle as we know it is dead
Streaming has upended the economics of television, as cheap memberships offer boatloads of content — a lot of which is already featured on pay-TV channels. Consumers are cutting pay-TV bundles and opting for streaming options at a rate that's only intensified over the last five years.
And while companies like Disney, Warner Bros. Discovery, Paramount Global and Comcast's NBCUniversal are trying to make streaming businesses profitable, they still rely on their TV networks for not only the lucrative fees they reap from pay-TV providers, but also for the content produced for the channels themselves, which often carries over to streaming.
Media mogul Barry Diller said recently the legacy media companies should revert back to focusing on their broadcast and pay-TV networks, which are profitable, unlike streaming.
Winfrey, as well as his predecessor Tom Rutledge, have often spoken publicly of the high fees pay-TV providers have to send the networks, which get passed down to customers as price increases. Those in turn often accelerate cord-cutting.
The growth of streaming has made it less fruitful for Charter to pay those costs, even as the company loses fewer pay-TV customers than its peers each quarter.
Often, series and movies that air on cable channels run on streaming services shortly after — sometimes just a day. Meanwhile, more and more live sports are making their way onto streaming.
NBCUniversal airs Sunday Night Football, one of the top-rated programs on live TV, simultaneously on its streaming service Peacock. Paramount follows suit with its Sunday package of football games on Paramount+, while Disney offers some, but not all, Monday Night Football games on ESPN+.
Charter said Friday it was willing to pay the rate increase that Disney was asking for in exchange for a lower minimum penetration term — meaning Charter guarantees fewer customers to stem costs. Some of Disney's networks fetch the highest prices in the bundle, such as ESPN, which receives $9.42 per subscriber a month, according to data from S&P Global Market Intelligence.
The company is also pushing to offer Disney's ad-supported streaming services — Disney+, ESPN+ and Hulu — at no additional cost so its customers don't have to pay twice for similar content.
Charter also said it would be willing to market Disney streaming apps to its broadband-only customers, something it views as a way to help Disney move toward making ESPN's live feed a direct-to-consumer streaming service. Disney has said it's a matter of time before it offers ESPN outside of the pay-TV bundle. ESPN+ offers only limited content from the network.
On a Friday call with investors, Winfrey said the talks with Disney are what negotiations with content providers would look like moving forward — a stark change for the pay-TV provider.
Long live pay-TV
During Charter's second-quarter earnings call in July, Winfrey said that the company was "committed to trying to find a path forward" for traditional TV bundles.
"And if we can have the flexibility to package and price it in the right way, we think it's good for customers and it's good for us. And ultimately, it's much better for programmers over time as opposed to having the cord cutting continue to accelerate at the pace it's going," Winfrey said.
Charter's recent negotiations aren't the only example of the company trying to find a new path for pay-TV.
In July, the company announced it would soon offer a cheaper, sports-lite bundle option.
Live sports often carry the highest ratings but come with the most costs for pay-TV companies. The sports-lite offering will remove regional sports networks from the equation, giving customers who don't watch their local teams a cheaper option rather than cutting the bundle altogether.
The pivotal move happened as the regional sports networks business has declined a faster speed. Diamond Sports Group, the largest owner of these channels, filed for bankruptcy protection this year. Other networks are offering streaming options, too.
Still, major national sports networks like ESPN remained in both bundles. While Winfrey said he would "love" to put ESPN in a sports-only bundle, he knew it was "a stretch too far" for Disney.
In another step to revamp the pay-TV model and stem losses, Charter entered into a joint venture with Comcast, the largest pay-TV provider in the U.S.
The venture launches later this year and will give customers the option to take the pay-TV bundle without a cable box. Winfrey noted in July that two-thirds of Charter's pay-TV sales come without a clunky cable box, meaning customers are using the Spectrum TV app on their own devices, like Roku or Apple's Apple TV.
Branded with Comcast's Xumo, the product will mean Charter can provide a smaller streaming device that integrates the traditional TV bundle with streaming apps in one place, making it a more seamless transition between the two for consumers.
The company is betting that service, plus cheaper and more flexible bundle rates, will keep pay-TV alive and kicking.
Disclosure: Comcast is the parent company of NBCUniversal, which owns CNBC.
[ad_2]

Source link